Commercial Real Estate
Use 360 presentation to show both, the function and the atmosphere of an office. Invite your clients to a VR tour to help them visualise and informational layer to highligh the function areas.
Use live annotations to map out warehouse operation processes.
Residential Real Estate
With VR/360 tours available on your
website you can present your space
to your clients 24/7. Give them chance to tour your property as if being there. When selling, 'fields test' the space with your clients and adjust planned space to client's needs.
Venture Capitals
Presenting an investment seldom happents at the location's investment. Using Evryplace touring your investment location regardless of the distance between you and the potential investor. Your investors can view the location and receive various information on each scene in the area.
Construction & Surveying
With 360 photography surveyors can now create a presentation that feels as if touring site. Created presentations can be shared among teams.
Give rights and permissions to other users to leave annotations and update presentations with new 360 images. Use Co-Viewing to talk over remotely.
Marketing & Sales
Evryplace presentations are "HTML friendly" – easily
embeddable in your marketing channels.
Give your clients a realistic view od the property as soon as they walk into your sales office, with different fit-out options or layouts.
Simple web editor
Versatility and intuitiveness of Evryplace repeatedly prove to work wonders in training use cases as well, helping in introducing new employees, developing crucial competencies and increasing effectiveness and safety in the workplace.
Web & mobile player
Use 360 documentation for tracking construction progress, ongoing repairs and their photographic documentation, Insurance and Visual Merchandising.
Smart API
360 presentation and virtual tours for Commercial, Residential, Construction and Surveying. Thousands of real estate professionals use Evryplace every day to efficiently showcase properties in a way that enchants their customers.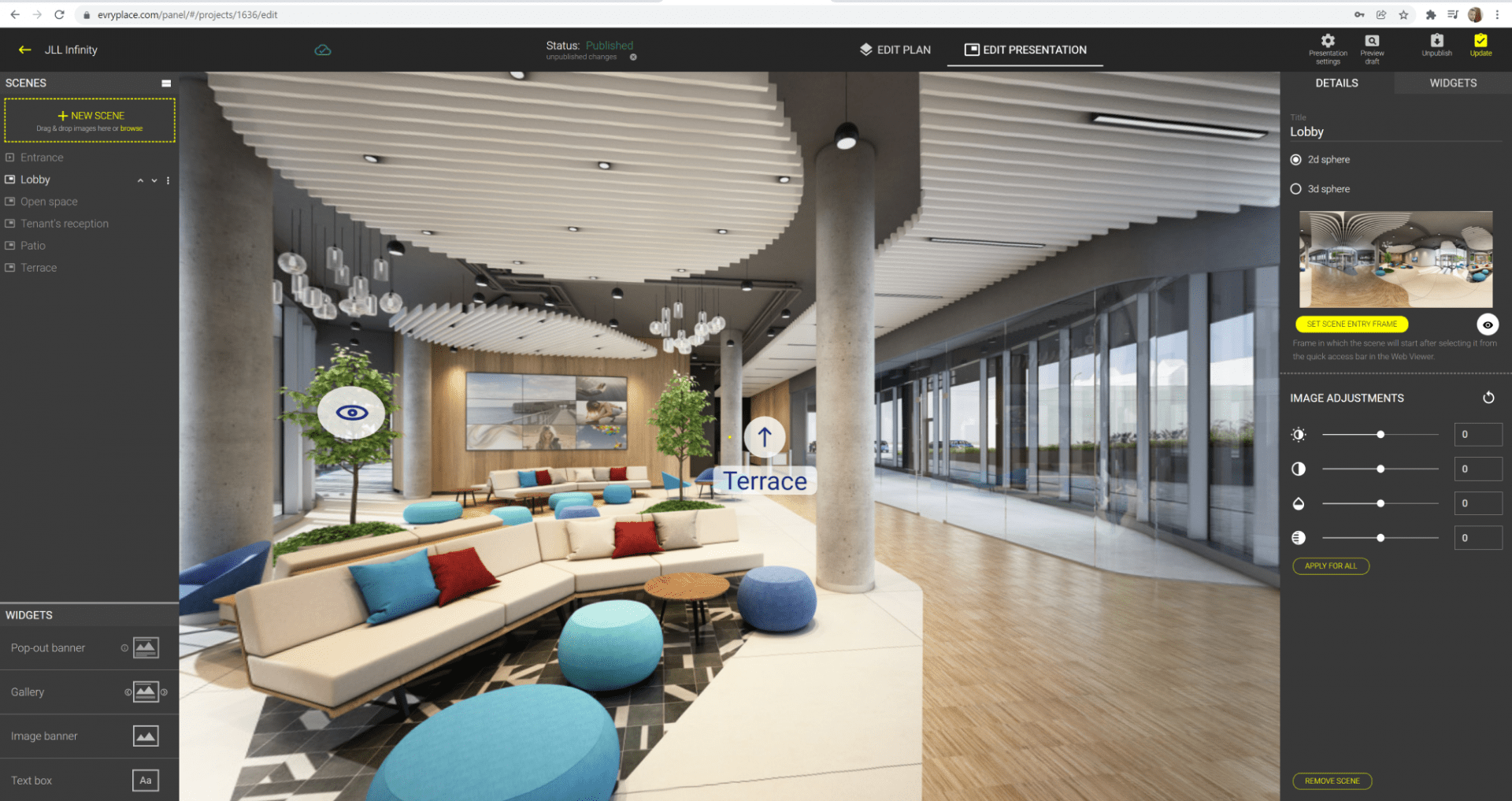 ⭐ Effortless and easy creation process
Upload the 360° photos, renderings or videos, add transitions and informational layer, publish and share.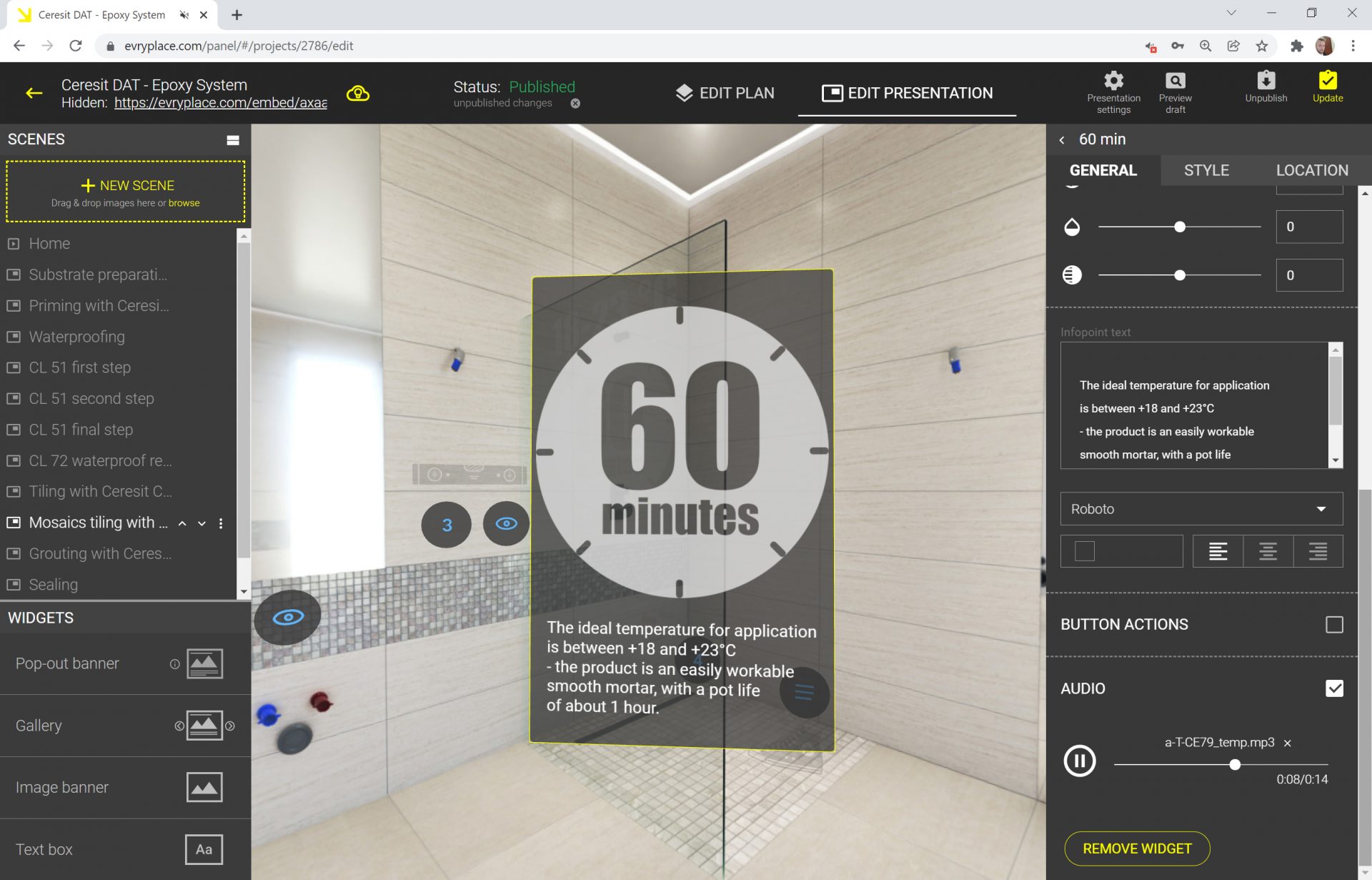 ⭐ Rich graphic and informational layers (widgets)
Add additional information with widgets - upload flat videos, photos and graphics. Combine them with text in Pop-out Banners or create multi-page Galleries filled with your content.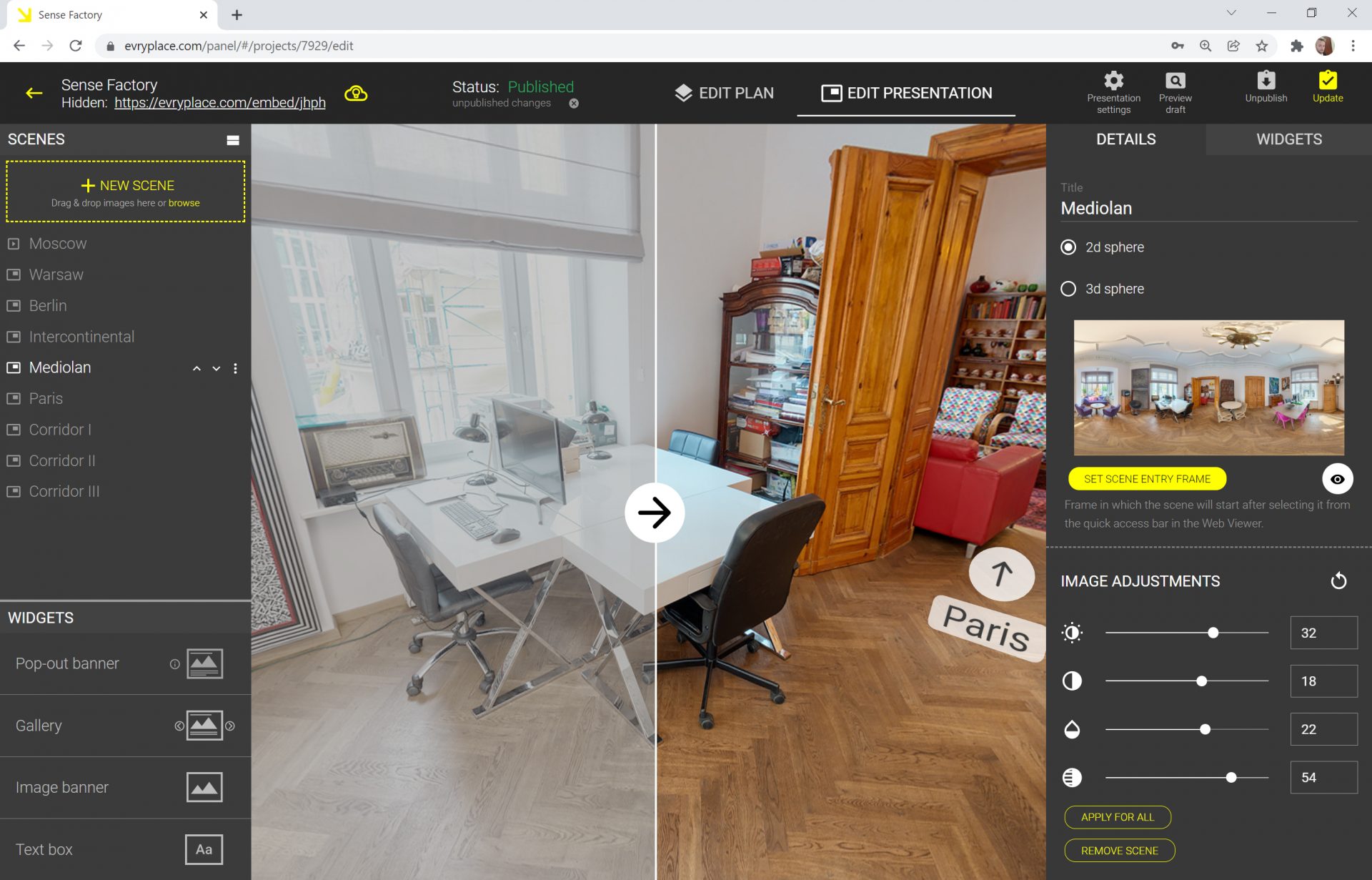 ⭐ Build-in photo editor - enhance your material in a few clicks
Change your 360° photos brightness, contrast, saturation and gamma.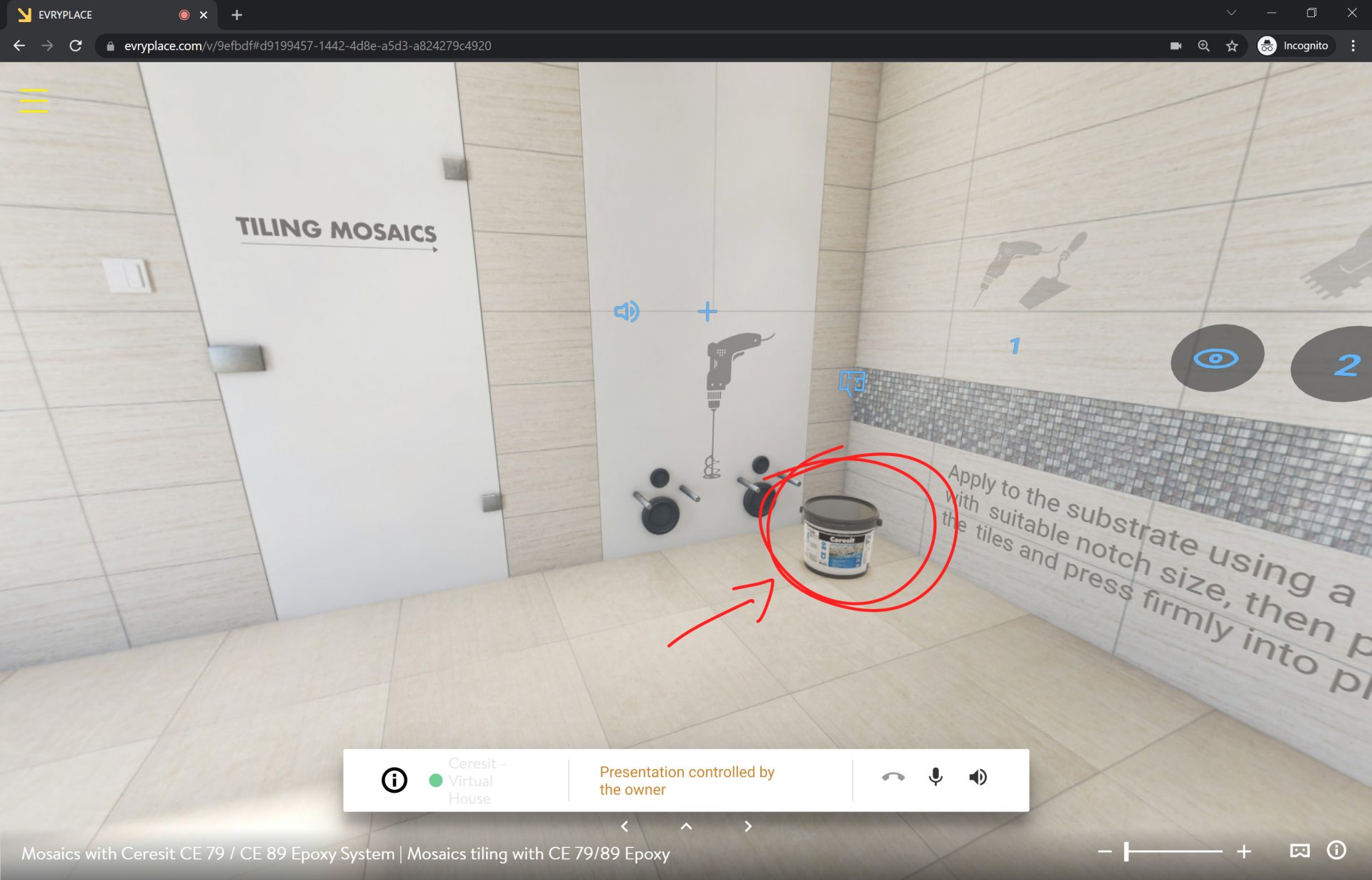 ⭐Co-viewing - enabling virtual 360 meetings and presentations with your clients or employees
Host a meeting in your 360° presentation. Connect with voice connection, use the drawing and ping tools to bring your client's attention to points of interest and communicate effectively. Co-viewing runs much smoother on client's side than screen sharing in a meeting apps.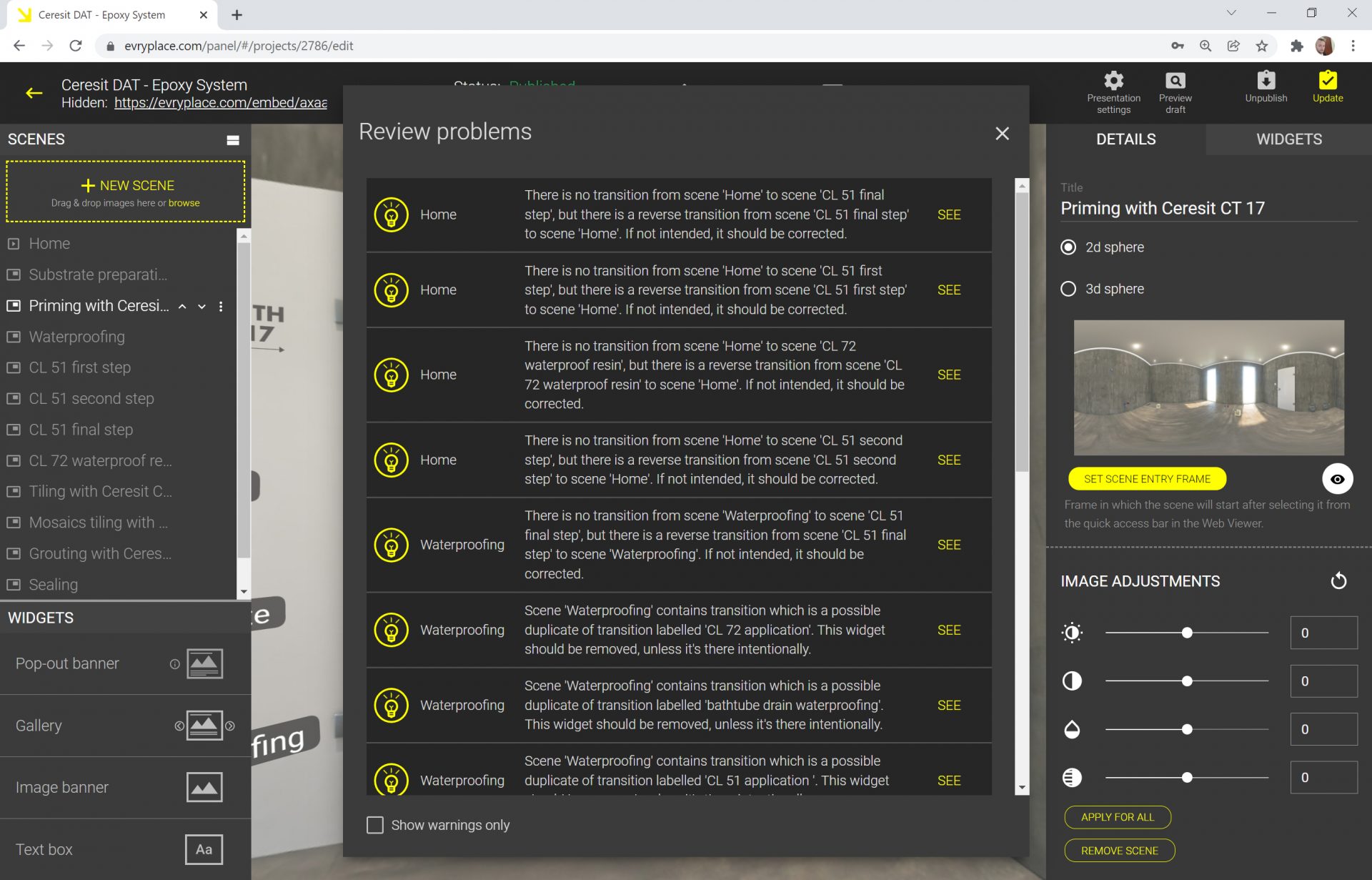 ⭐Validation Assistant helping you to keep the track of how to improve your virtual tour 
It will detect potential problems like missing transitions, unchanged names of the scenes.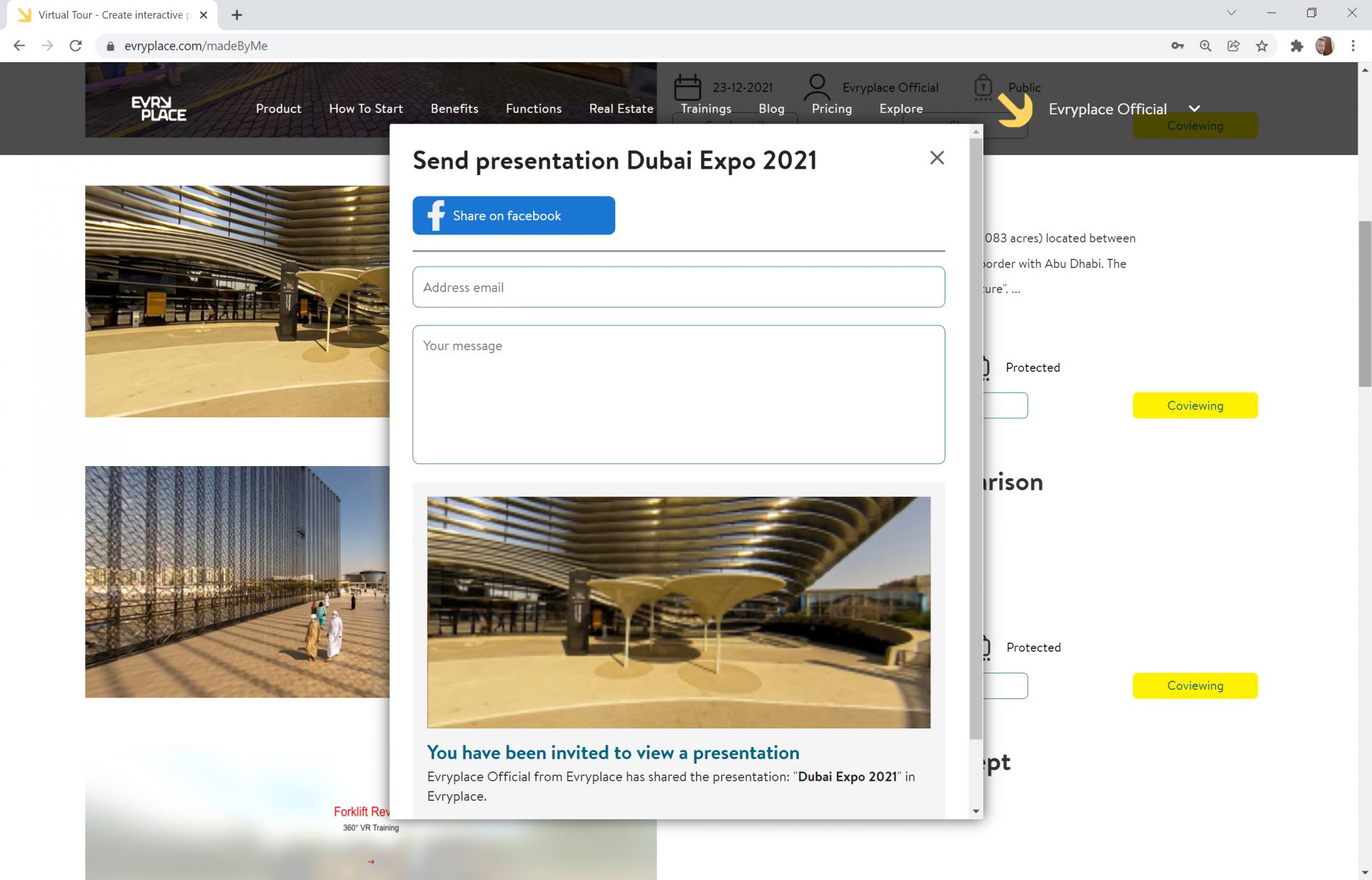 ⭐Accessibility and numerous sharing options 
Share your tours with links, email, embed on your website or host a meeting with Co-Viewing.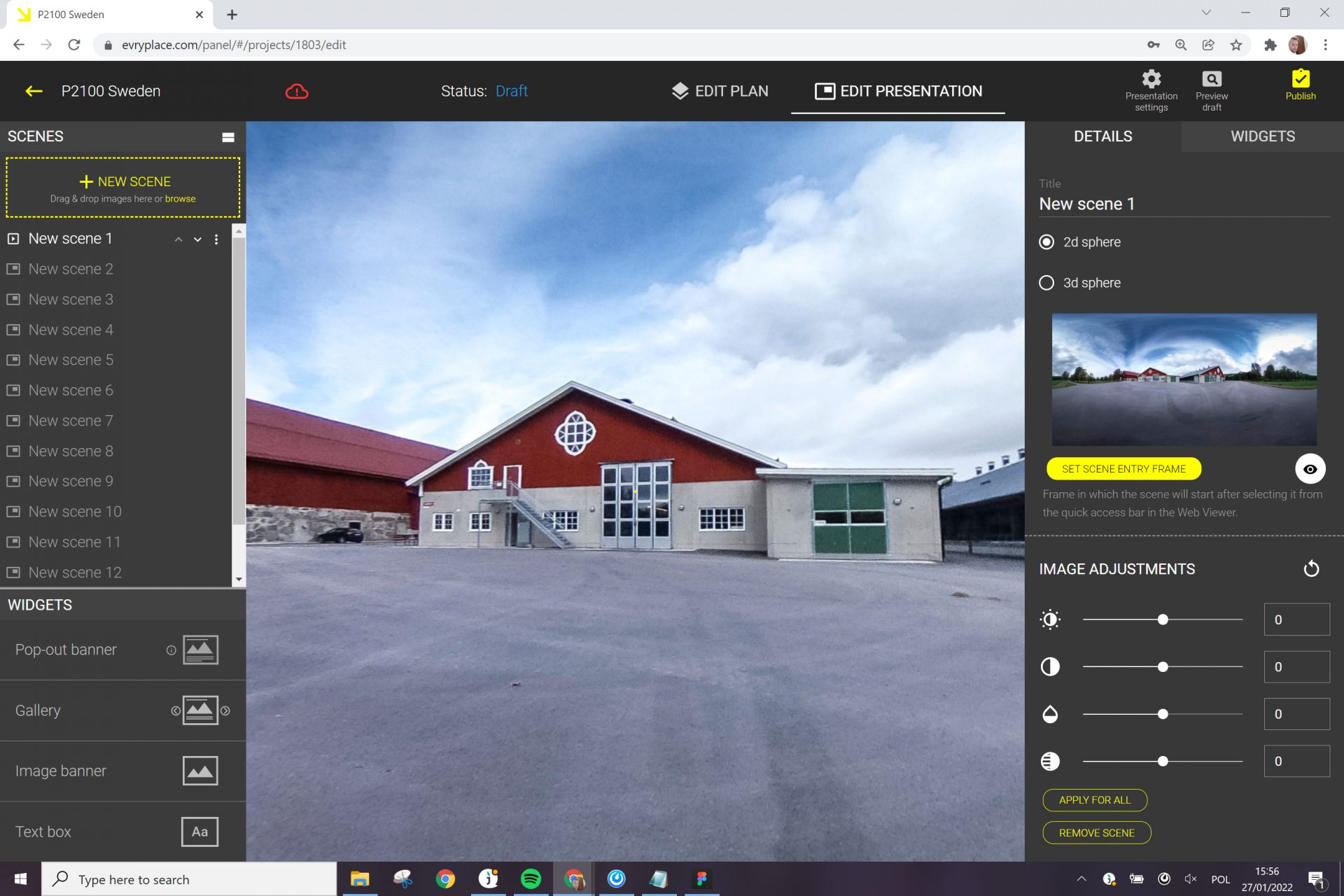 ⭐Ease of implementation with cloud-based version 
All you need is a desktop computer with an internet browser. Log into Evryplace, and build your virtual presentations from anywhere in the world. No installations needed.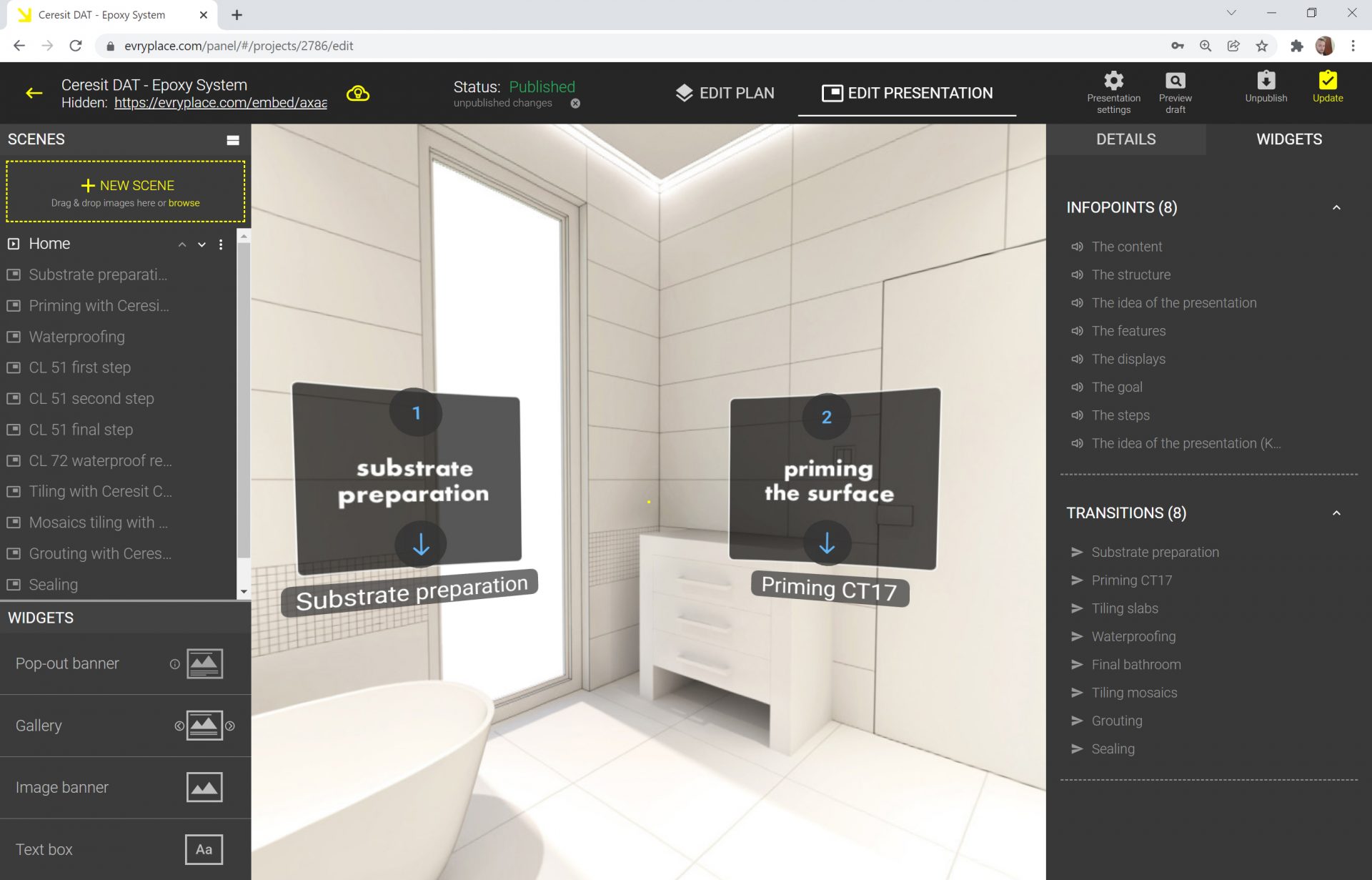 ⭐Maximum security and integrations with on-premise version 
Have all your files and content stored on your own server. Control everything fully.
All stages of the project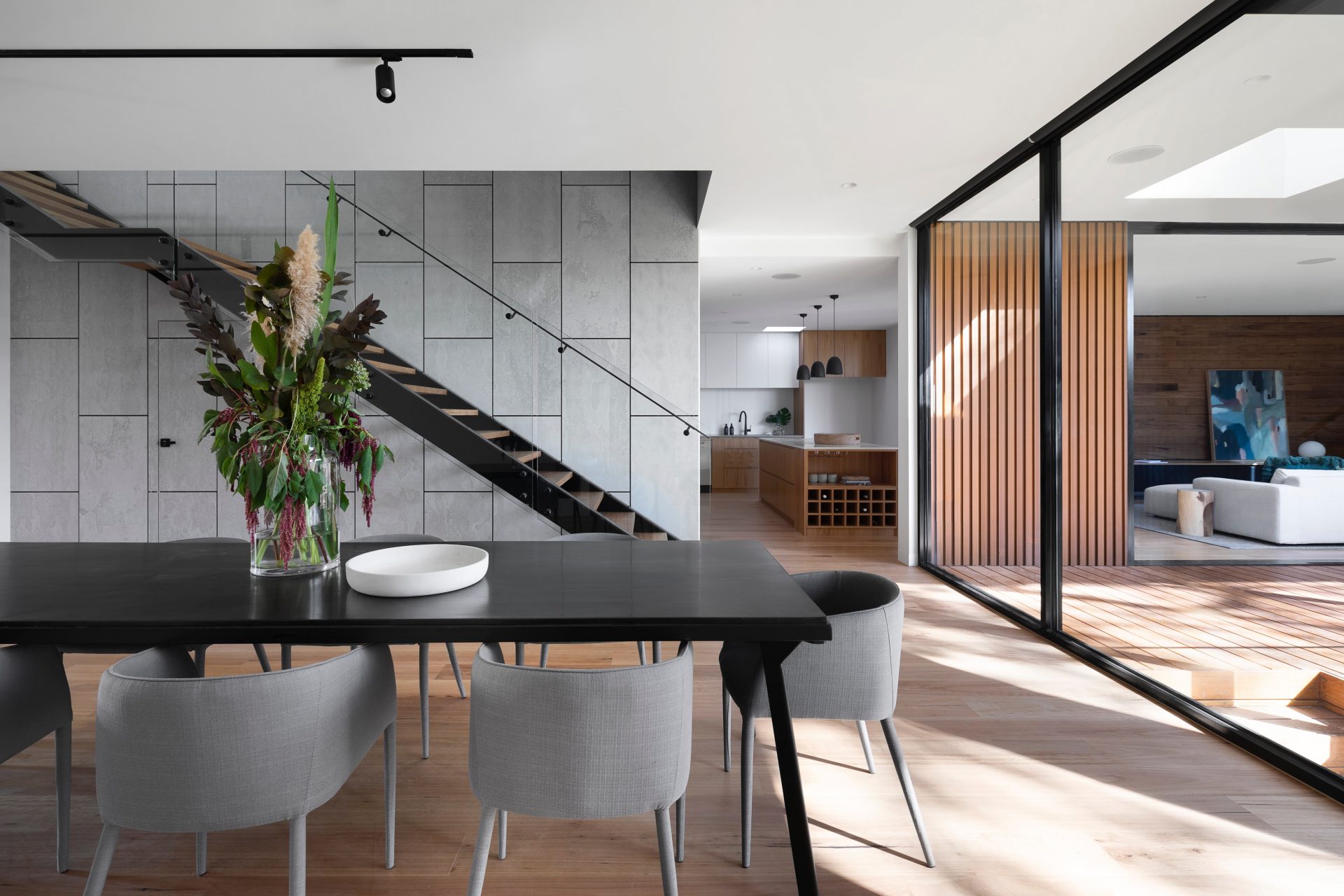 Investment
Present full overview of the investment in 360 rendering and photography
Perform remote virtual tours over long distances
Add information layer to give detailed information on your investment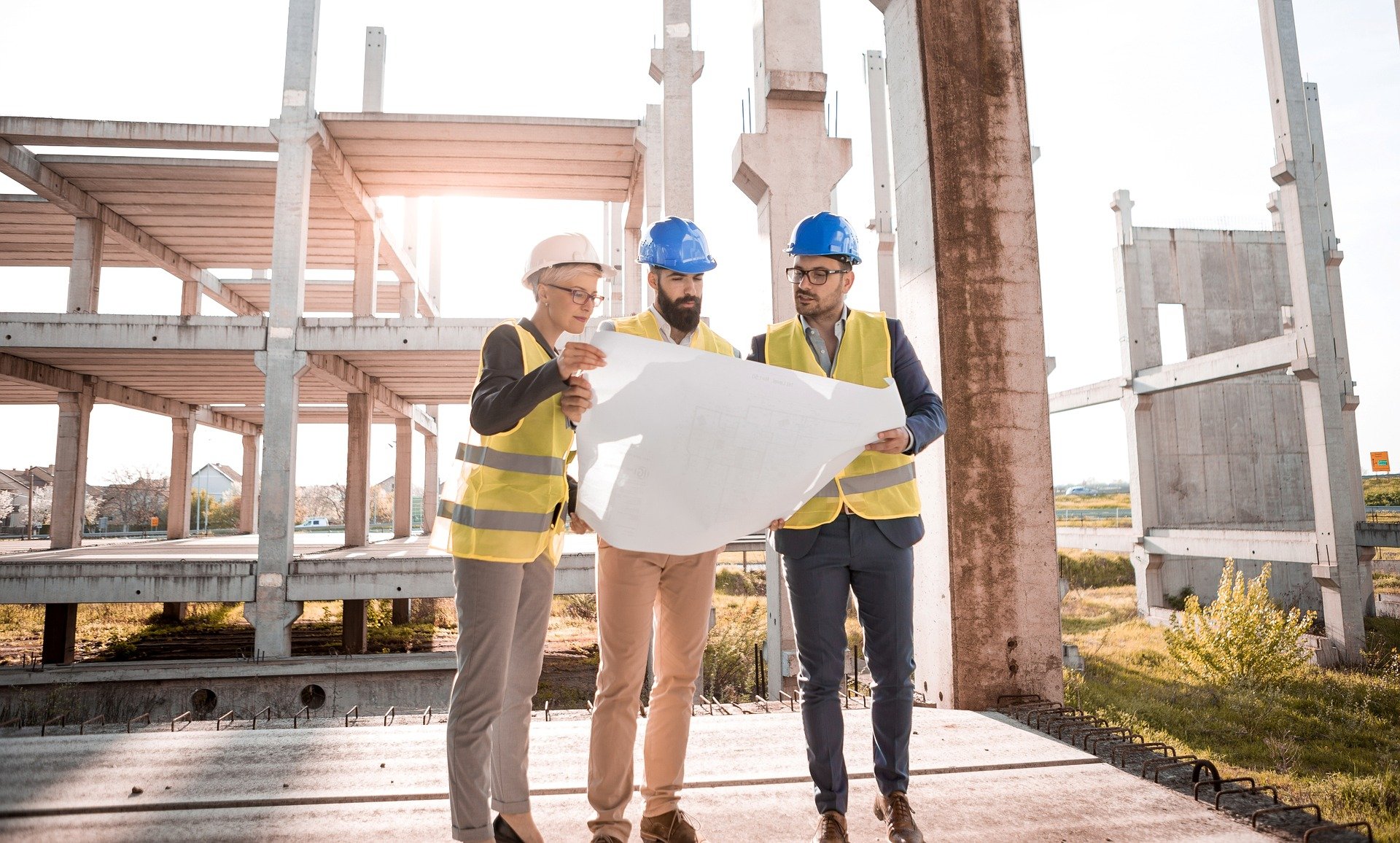 Pre-Construction
Reduce the number of iterations and get better feedback on the designs with 360 live conferencing (coviewing)
Use live annotations and comments to highlight areas for amendments
Use 360 renderings to better visualize the function of the designed property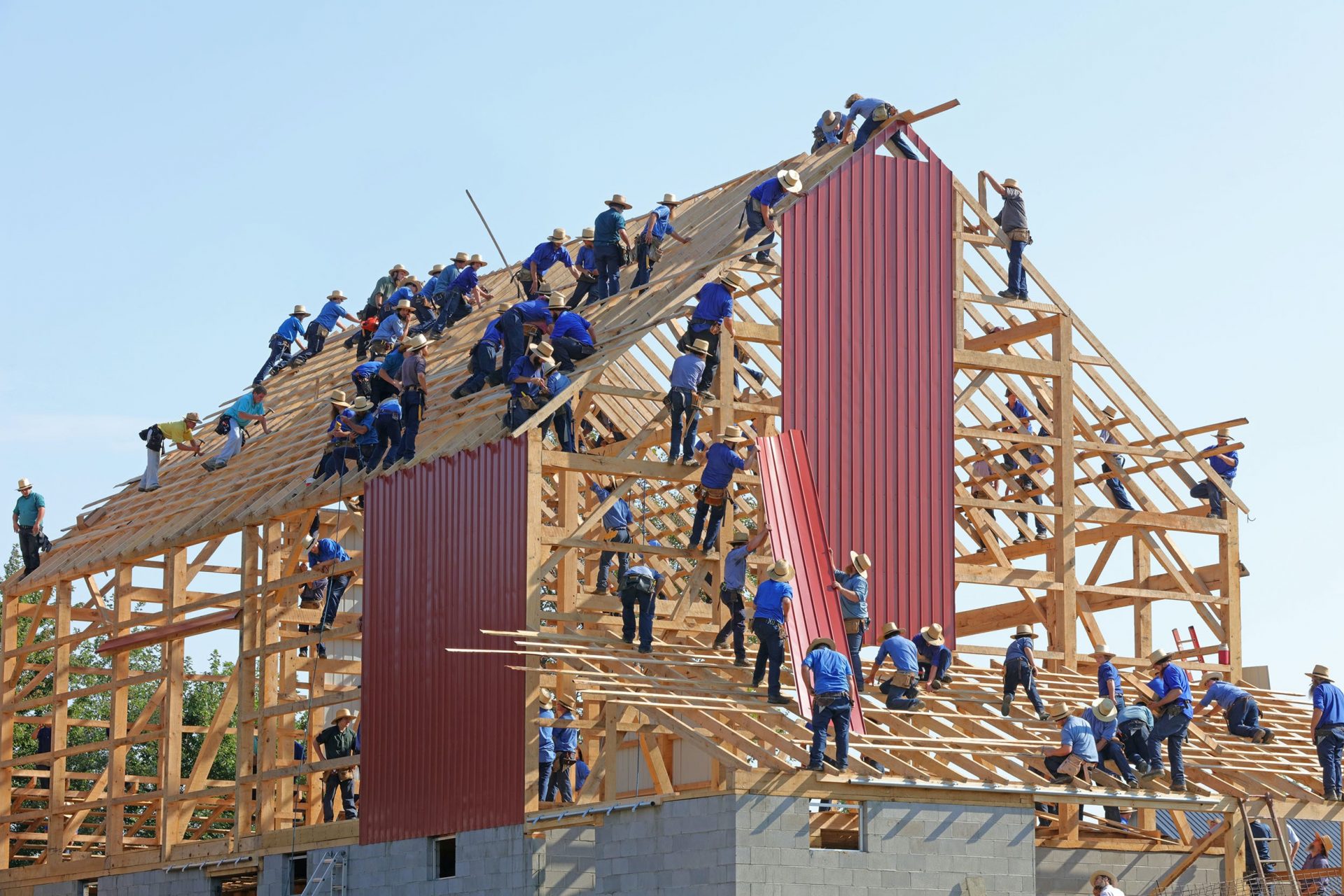 Construction
Eliminate communication gaps by sharing 360° documentation to multiple teams
Add related files – PDFs, videos, or audio file, to keep everything in one place
Perform quick and safe H&S presentations while the construction takes place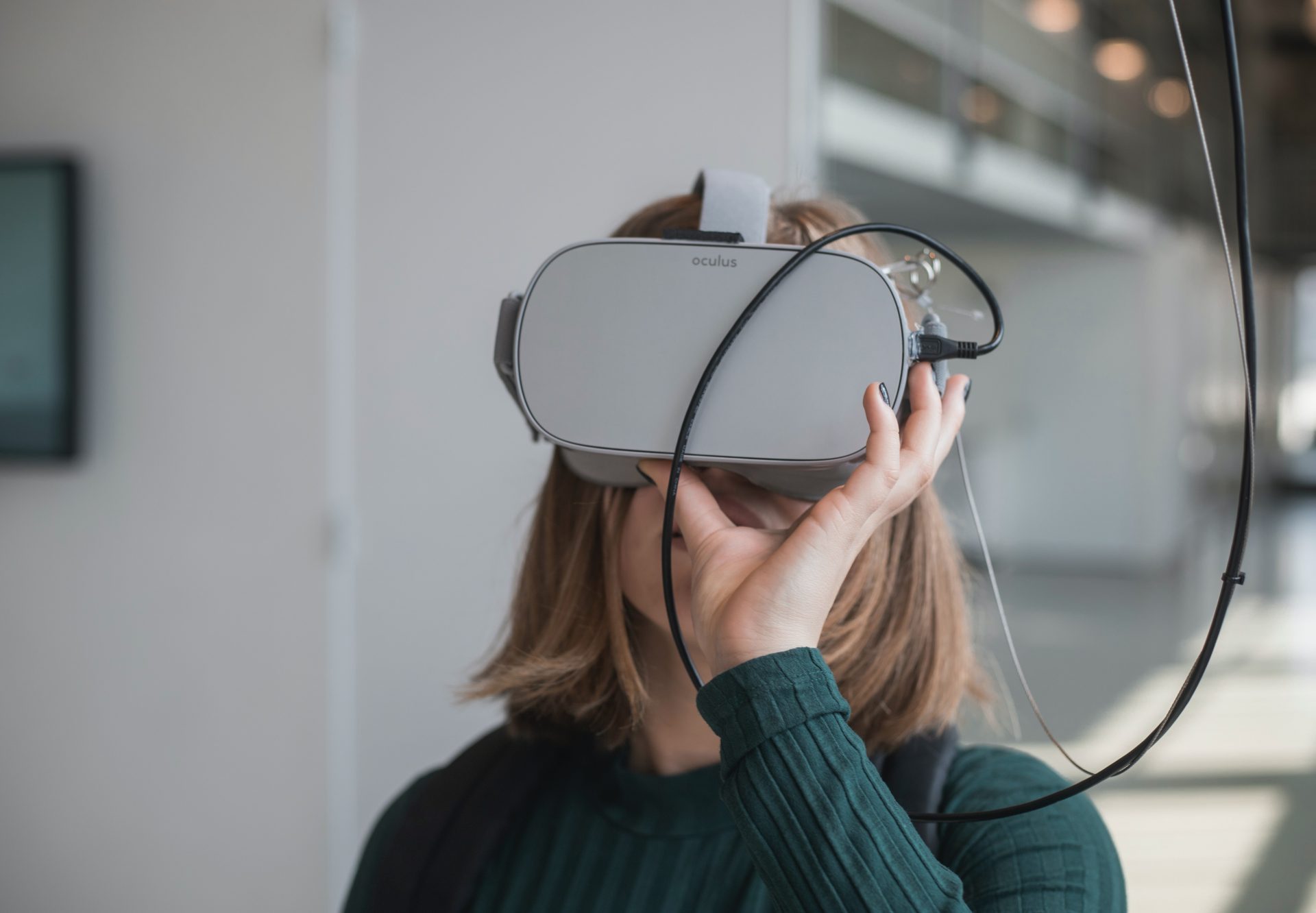 Sales & Marketing
Create branded VR/360 tours. Add 360 to your existing marketing channels to increase attractiveness & engagement
Sync with VR goggles or with signage technology and steal the show during trade fairs
Use 360 Remote Viewing to show property online and invite convinced clients to your office
Ready for Enterprise Integration 
Power API allowing for integration with client legacy systems and centralized client databases.
Integrate with multiple systems and client's preferred hardware solution – connecting via mobile devices, local networks or over the cloud.